Despite the challenges presented by COVID-19, many educators and students have the ability to take their learning temporarily online. Here are 5 tips for parents who have children participating in distance learning.
Help your child establish and stick to a routine. Even though school has gone to an online learning format, treat school days just like you would if your child was attending school as usual. This includes having them get up at the same time everyday, get properly dressed, and eat a healthy breakfast.
Check in with your child's advisor or teachers. Teachers and advisors are usually more than willing to connect with parents via email or phone after school hours. Check in if your child is having difficulty managing the online learning platform or staying on task.
Encourage physical activity and exercise. Your child will be sitting in front of their computer for long stretches of time. Encourage them to use the breaks in the day to stretch, walk the dog, or do jumping jacks — any movement helps!
Resist the urge to sit in on classes with your child. While it may certainly be tempting to "pop in" on your child's classes, please respect their privacy and that of other students.
Take care of you. If you're not taking care of your own physical, emotional, mental, and spiritual needs, you will have less energy, space, and patience to connect with and take care of your children.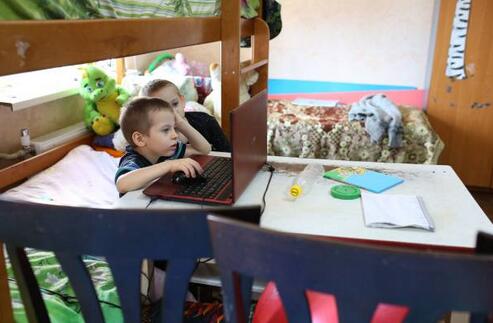 photo credit: Getty Images