In these days of Zoom calls and virtual learning, teachers are starting to miss their kids. One teacher in Kennesaw, Georgia decided he was going to visit all of his students so he laced up his sneakers and ran to their homes.
Bill McAllister is a teacher at Big Shanty Intermediate School and it took some planning as he had to figure out where everybody lived but he figured out the most advantageous route to get from one place to another. He'll be running more than 50 miles in all, about 6 to 8 miles a day.  
**FYI: Bill had quadruple bypass surgery a few years ago, so he wants to keep his miles to a manageable distance.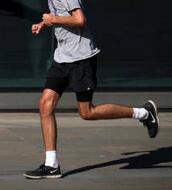 photo credit: Getty Images