Justin Bieber Photobombing People In NYC Is The Gift That Keeps On Giving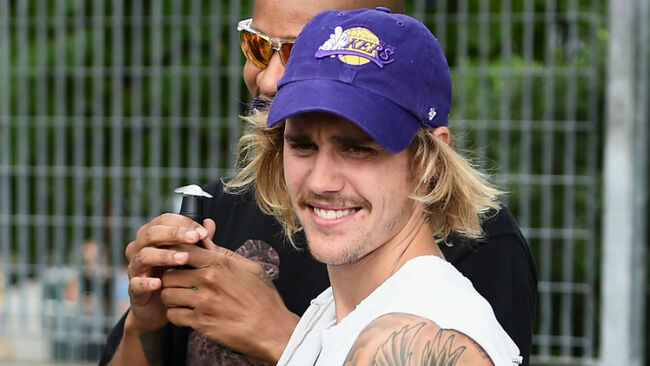 What do you mean Justin Bieber was photobombing random people in Central Park and (I missed it) no one caught on? Yes, you read that right. The 24-year-old singer and Jimmy Fallon photobombed unsuspecting people in Central Park for a Tonight Show skit they called "Musical Photobomb with Justin Bieber."
While wearing cheap wigs, horrible fake mustaches, baggy black suits, and dark sunglasses that basically screamed "I'm in disguise," the funny twosome lip-synced and danced to Justin's 2015 hit "What Do You Mean" behind and around unsuspecting park goers. Making their behavior that much more awkward, the song was played in their hidden earpieces rather than aloud. If you can believe it, even with all that going on, they somehow managed to go unnoticed while making complete spectacles of themselves.
They crashed a family picnic, danced behind elderly tourists, stopped general Central Park traffic flow and still, no one connected the dots that the two were actually Justin Bieber and Jimmy Fallon. #JustAnAverageDayInNYC
It wasn't until the very end of the clip when Jimmy announced Justin as Justin, and the "No Brainer" singer unveiled himself that the two were flocked by fans and parkgoers.
Watch the clip below to see how it all went down!
On Thursday (September 13), Justin and his fiancée Hailey Baldwin were spotted visiting a courthouse in NYC. The couple's visit immediately sparked wedding rumors, with some even claiming the two got married at the courthouse.
According to TMZ, the couple, who got engaged two months ago, was seen crying inside the courthouse. A source also claimed to have heard Justin declare his love for his fiancée. "I can't wait to marry you, baby," he reportedly said. Another eyewitness claimed that the singer additionally thanked a court official "for keeping it on the DL."
On Friday (September 14), Hailey took to Twitter to set the record straight about their courthouse visit, writing, "I understand where the speculation is coming from, but I'm not married yet!"
Photo: Getty Images