Your Kid Wants To Be A DJ? Send Them To Baby DJ School!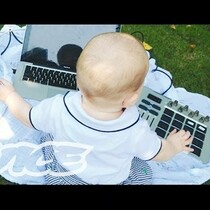 Posted February 5th, 2014 @ 10:47am
And by kid, I mean toddler.
Baby DJ School is a REAL THING! This school in Brooklyn was started by Natalie Elizabeth Weiss, and she says it benefits the child in so many ways.
Before you know it, your baby could be dropping the beats to Mary Had A Little Lamb, remixing Mama's Gonna Buy You A Mocking Bird, and scratching to Rock-A-Bye Baby.
Parents: Would you consider a class like this for your kid? Is she on to something here?
It looks fun, and heck, my kids basically grew up doing the same stuff on some of my own gear....but they have yet to make an album.
And I'm not sure how I'll react when my 3 year old daughter asks for a My Little Pony, an Ariel doll, and a Roland SP-404 Sequencer for her birthday.
-Jay