Game Of Thrones Theme...Sung By Goats!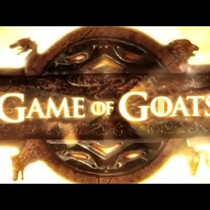 Posted April 10th, 2014 @ 4:37am
This is for you Dana.
I love watching Game Of Thrones on HBO. It's one of my favorite shows. I've been trying to get Dana to watch it, but she just can't seem to find the time.
So, someone finally took her love of goats (5-time goat milking champion) and made Game Of Thrones better!
Yes, I watched the whole thing. It was hilarious.
Why do some of those goats sound like they're yelling?
-Jay