Holy first pitch, Batman...I mean Batkid!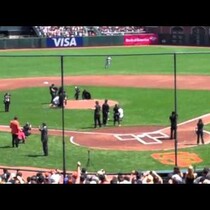 Posted April 9th, 2014 @ 7:02am
The tiniest superhero in the world, Batkid, threw out the first pitch for the San Francisco Giants' home opener on Tuesday at AT&T Park.
Batkid is the alter ego of 5-year-old Miles Scott, a kindergartner who has leukemia in remission.